4G Car CCTV System

● Each car installs one vehicle PTZ camera (1080P-SDI/AHD),one indoor camera with audio(1080P-SDI/AHD),one emergency reinforce alarm button,one emergency JPEG image capture button,one voice talk-back handle,one 7 inch monitor with PTZ control rocker,law enforcement recorder device is optional.
● Trigger emergency reinforce alarm button,command center platform software can immediately receive alarm info of law enforcement vehicles need reinforce,then arrange nearest patrol vehicle to go to reinforce.
● If law-enforcement officers meet unlawful act,they can trigger button of JPEG image capture,can save the images in remote server immediately.
● Support GPS/ GLONASS dual modules positioning with higher location accuracy.
● Command center can operate the vehicle at any time by using 3G/ 4G
● Support 360 degree rotary PTZ camera,can get accurate location,track and shoot various unlawful acts and law enforcement progress.
● Support max 4CH or 8CH 1080P HD recording,no delay.
● Support 2 TB Hard disk recording, no need format. Plug and play.
● Police law-enforcement officers can wear law enforcement recorder from our company,to record videos & audios,take pictures etc. Of unlawful acts.
● To extract law enforcement recording is convenient and fast.Multiple storage modes(HDD,server) is safer.Support scene playback and backup recording,download recording remotely,extract recording from server etc.
● Command center can unified manage and command police enforcement vehicles via platform,improving enforcement efficiency.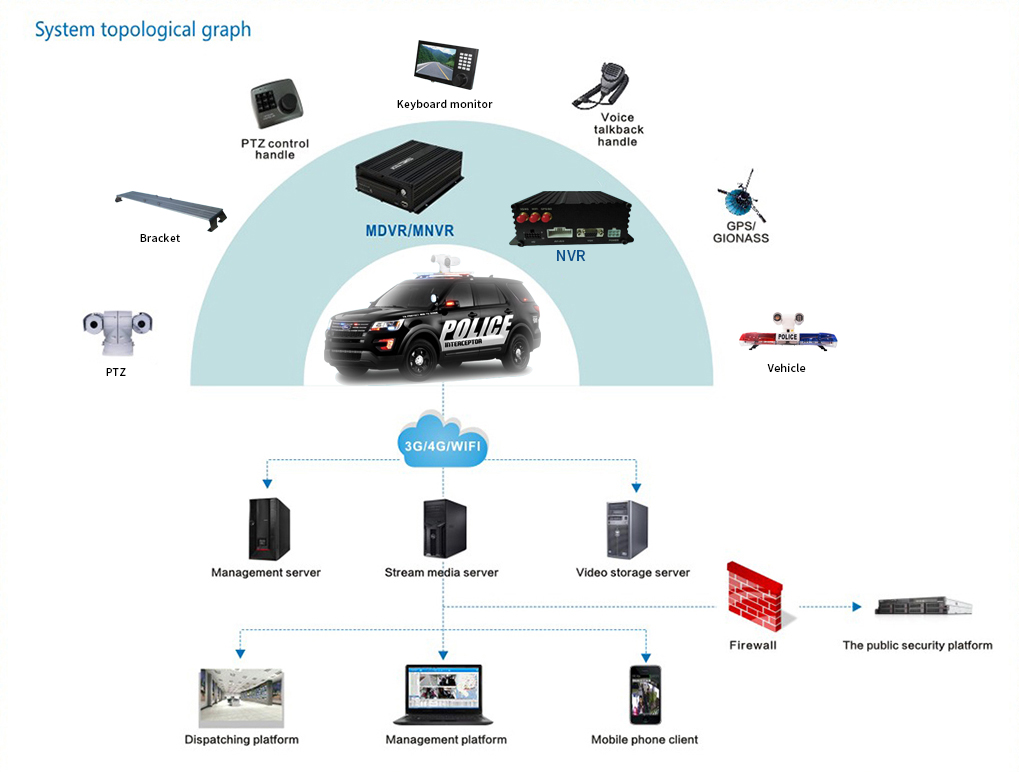 Mobile Surveillance Trailers
*Fastness: No need to install wiring for the mobile station monitoring system, it takes only 2 minutes for a single person to complete the deployment;
*Self-sufficiency: comes with 5G/4G network, battery;
*Diversity of supply: support city power, solar power, wind power, vehicle power supply;
*Simplicity: All operations adopt fool-like operation design;Scalability: Extensible face recognition, license plate recognition, helmet detection, online dust monitoring, mask and reflective clothing detection, etc.;
*Signal diversity: 4G/5G, WiFi, COFDM ad hoc network, etc.;
*Variability: the camera can be replaced according to requirements, the height of the lifting rod, the size of the battery;
*Flexibility: adopt 4 shockproof, silent rubber wheels, move arbitrarily;
*Portability: The equipment is light and handy, which is convenient for consignment and transfer;
*Cost advantage: no wiring, no power supply, self-contained lifting device, one-time investment, multiple use;
*Stability: Adopt military and industrial grade shockproof design;
*Modular: Modular design is used to facilitate disassembly and maintenance;
*Openness: mobile station can be connected to police dynamic forensic system platform with the existing *dynamic on-board forensic system, 4G individual commander, 4G ball control, and UAV image transmission system to achieve true Integrated management of all video surveillance;
*Extensive: can be used in public security emergency monitoring and deployment, traffic police violations, speeding snapping and mobile sonar detection, city management law enforcement supervision, smart site monitoring and AI empowerment, etc.;
*Customization: can be customized according to customer requirements.